WARNING: Don't let YOUR business be 1 of the 80% of businesses in BANKRUPTCY in 5 years
– Are you really GOOD at something and you went into business to make money but found it was harder than you thought to run a business?
– Don't know whether you are making money or not?
– Worried about having enough money for payroll this week?
– Do you have to figure out which bills to pay each Friday to conserve cash?
– Are you stressed and feeling overwhelmed with all that you have to do in your business?
– Do you feel like you can't get everything done that you need to every day?
– Are you missing your children's baseball games and dance recitals?
– Has your health suffered with the stress of your business?
– Do you not have time between 8-5, Monday-Friday, to meet with a CPA to get the advice that you need?
– Do you wish you could find a place to learn what you need to know to run your business better?
My name is Ellen Springer.  I am a Master of Business Administration (MBA) and I have been a CPA for over 35 years.    I am passionate about helping Small Business Owners and Entrepreneurs.  I DON'T want you to be 1 of the 80% of businesses that the SBA says are in BANKRUPTCY in 5 years!  I have seen what works and what doesn't and I want to share this information with you so that your businesses can be successful.  If your business is successful, you will have less stress, more money, and more time to spend with your family.
WARNING: Don't Make the Single Biggest MISTAKE That Most Business Owner Make
Most people start their own business for the following reasons:
– They have a new idea and they want to be the one to make money from it
– They are tired of other people making money on their ideas or efforts
– They feel that they can run the business better than their employer
– The inherited or received a lump sum of cash they want to finally pursue their passion
Most new entrepreneurs do not have a business degree, nor do they already have the knowledge on how to start OR run a successful business.  That doesn't mean that they can't learn how to do those things, but most business owners don't take time to learn.  They just jump in and start trying to make sales.   Hence, the 80% BANKRUPT rate.
The reality is, running a business requires a number of different skill sets. 
I don't want YOU to make the single BIGGEST mistake that most small business owners make and BANKRUPT your business.  Most new small business owners are really good at something and that is why they went into business. BUT most don't have every skill set they need to run a successful business.   You don't have to know everything about running a business, IF you surround yourself with the required expertise by teaming up with or hiring those who can and will help you to be successful.
The good news is that you now have an opportunity to learn what you need to know when YOU are available, 24/7, from a business expert who has been advising small businesses for over 35 years.  I have figured out what works and what doesn't, how to start a business, how to run it, and what most people don't tell you about having your own business.   It has been my dream to be able to share my knowledge to help as many business owners as possible be successful.  Together, let's change those SBA statistics!
I invite you to Come Aboard ProfitShip and go from rough waters to smooth sailing, a place to:
| Learn | Profit | Succeed |
There are 3 ProfitShip levels from which to choose (all of the benefits are in the chart after the descriptions):
Skipper:  For business owners who just want access to information when they need it, 24/7, and from wherever they are.
Captain: For business owners who are a little more serious about running their business, have access to the benefits of Skipper level, and want to be able to submit questions and ideas for more videos and have group coaching with me.
Admiral: For business owners who have all the benefits of the Skipper and Captain levels and want more discounts, information and benefits and access to the VIP day for free.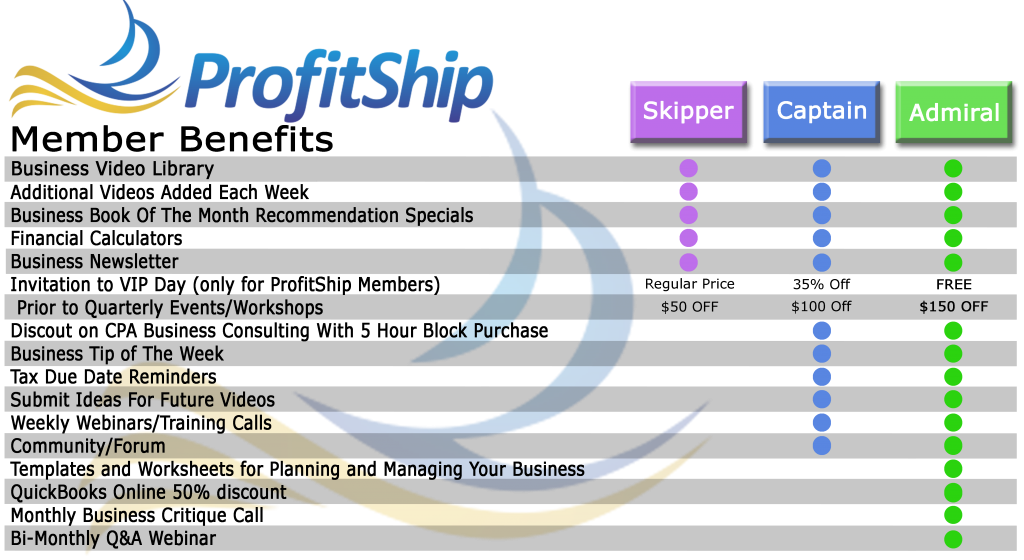 Why Listen To Me.......
I have been involved with businesses since I was a teenager.
I was 13 when my parents bought their first business, a marina.  They sold everything that they had to buy it.  As a teenager, I worked 7 days a week around school, helping any way I could.  Assisting the bookkeeper, painting boat bottoms, pumping gas, whatever needed to be done.  There were no more family dinners.  The conversations always ended up being an opportunity to exchange information about customers, vendors and employees.  I experienced the challenges and the effect of them on the entire family:
– juggling cash flow
– trying to take vacation time away from the business
– hiring the RIGHT employees
– trying to get everything done during the day
– employees calling in sick and being short handed
– equipment breaking down and delaying service to customers
– protecting the business property from hurricanes
– dealing with various threats to the business (weather, competition, etc)
– keep up with ever changing government regulations
– trying to make money to provide for the family
I Go the Extra Mile
"Ellen is clearly respected in the business acumen and ability.  She is well recognized as a successful author.  That would be enough for most people, however, Ellen consistently goes the extra mile to contribute her time and expertise to non-profits to make our community a better place."
–Scott Johnson, Businessman and Community volunteer.
When I started my first CPA firm at 23, I put an ad in the paper to announce my new company.  After reading the announcement a gentlemen called me and told me that he wanted me to be his CPA because of something that I had done 6 years prior at my family's marina.  He reminded me that he came into the marina on June 1st, the first day of hurricane season.  He needed a spot for his 25 foot boat to be stored.  He had been to all of the other marinas on the island and we were his last hope.  We were technically full on the "lower" racks in the storage buildings required for his size boat.  I told him to give me an hour, I would see if I could work with the forklift driver and see if we could move any boats around and make room for him.  We were able to move some boats around and we made a spot for his boat.  The customer was so happy, that he paid for a year of rent in advance to keep his spot.  I thought I was just doing my job the best way I knew how, but he considered it "Going the Extra Mile" I made a lasting impression on this customer.   He stated that there was no one else that he wanted as his CPA as he knew that I would continue to "Go the Extra Mile" for him.
AND, I will Go the Extra Mile for YOU!
I know your struggles…. I know your pain!!!
As I have mentioned, I started my own CPA firm at 23 in 1981:
– Highest interest rates on record for all credit, loans, credit cards, etc.
– New house with a 17% interest rate
– 5 month old baby
– Run-away inflation
– Husband had just changed jobs and had taken a 25% pay cut
– A Woman CPA in a profession run predominantly by men
Starting and Running a Business is SCARY!
– Would anyone hire a woman CPA in business for herself?
– Would I find qualified employees to work for me?
– Would I make enough to pay the office rent on time?
– Would I be able to juggle a family and a full time business?
– Would I be able to pay the mortgage?
– Would I be able to buy diapers and put food on the table?
– What if I failed?
– What if I lost everything?
I Decided to Become the Best CPA
I decided to become the BEST CPA that I could be.  As a result, I have received a number of incredible honors over the years including:
– Atlanta Magazine's – "5 STAR Top Financial Services Professional" Awarded 2014, 2015 and 2016. (Top 25 CPAs in Metro Atlanta out of 8,200 CPAs).
– NAIFA-National Association of Insurance and Financial Advisors, "Atlanta Top Female Advisor" Awarded 2014, 2015 and 2016.
– Outstanding Leader Award-Georgia District of Kiwanis 2016
– Worldwide Who's Who VIP of Executives, Professionals and Entrepreneurs, 2013-2014
– Worldwide Who's Who Registry for Lifetime Achievement-2012
– Cobb Chamber of Commerce Top 25 Small Business Award-2007
– NAWBO-National Association of Women Business Owners WE Inspiration Award-2006
– Kennesaw Mayoral Award for Excellence-2006
– Kennesaw Citizen of the Year-2005
– Kiwanis President's Honor Roll for Outstanding Service-2005-2006
– Kennesaw Business Association President's Award-2003
– YWCA Women of Achievement Honoree-1995
– First All Girl Crew for CMCS Sailboat Race-1976
– Shrimp Festival Queen-1975
"By training and practice, Ellen Springer is an expert accountant."
— Roger Tutterow, Ph.D. Professor, Michael J. Coles School of Business, Kennesaw State University, Kennesaw and Marietta, GA.
I Published a Book: Turn Your Passion Into Your Dream Business, Take it from a Dream to Real Success
(Success Now Publishing, LLC in 2011)
"I wrote this book for businesses to educate them on issues that affect them every day.  It explains in plain English practical ways to set up and run their business more successfully.  Examples of small business situations are presented and the strategies are applied to these businesses.  It includes references to resources in the appendices to continue to assist businesses in the challenges of everyday business life."
— Turn Your Passion into Your Dream Business, Ellen Springer, MBA, CPA, Success Now Publishing, LLC, 2007.
"Turn Your Passion into Your Dream Business serves both as a "how-to-guide" for those starting businesses and as a reference guide for managers of established small businesses who need a refresher on addressing the fundamental challenges that they face.  Business writings are frequently dominated by "fads" that are short-lived and unproductive.  Turn Your Passion into Your Dream Business is a collection of practical, time-tested, but still contemporary, lessons for the small business owners.  Those who consume it will be better managers for having done so."
–Roger Tutterow, Ph.D. Professor, Michael J. Coles School of Business, Kennesaw State University, Kennesaw and Marietta, GA.
"Turn Your Passion into Your Dream Business, serves up tasty morsels of information and advice for the small business owner.  Ellen Springer does a marvelous job of sharing her knowledge and experience with the reader."
–J. Sam Johnson, CPA, Past President of the Georgia Society of CPAs.
"The book is incredible.   I work with new businesses and small businesses everyday.  I am familiar and practice so much of the information in the book, however you put such a new "spin" on it that I couldn't put the book down!  The book was full of great information and I feel that I have a new way to present the information to my cients and not "overwhelm" them.  The "real-world" language was so helpful.  I am just so impressed."
–Nicco Duncan, Founder and CEO of A Perfect Plan.
Ellen Springer's ProfitShip
"Ellen Springer has distinguished herself as someone who is able to combine her expertise in the business world with her expertise in the non-profit world."
— Katie Fallon, Marietta Daily Journal
"She has a plain English way of explaining complicated concepts."
–Elizabeth Hillick, Practice Manager, Atlanta GYN Associates, PC.
"Ellen has gone far more than the extra mile to assist us in refinancing our office mortgage loan and helped us develop management systems to improve our overall way of doing business.  She has done more for more our firm in one year than my previous CPA advisor did in 20 years."
–Pamela Immekus, President, Sunbelt Engineering Group, Inc.
"From the beginning, Ellen has been one of our leading board members when it comes to service to the university and recommending creative ways to deal with challenges.  Her energy is boundless and her commitment to our work is second to none. "
–Terry Balko, Director of Planned Giving, Kennesaw State University
For a Limited Time ONLY
Become a

ProfitShip

Charter Member
So, I it is with great anticipation and excitement that I invite you to Come Aboard ProfitShip and choose your course to be the Best that you can be.
Remember
One small mistake can cost you thousands of dollars and capsize your business.
For a limited time we are inviting businesses to become members at a permanently discounted rate as Charter Member which also includes other Charter Benefits and Bonuses.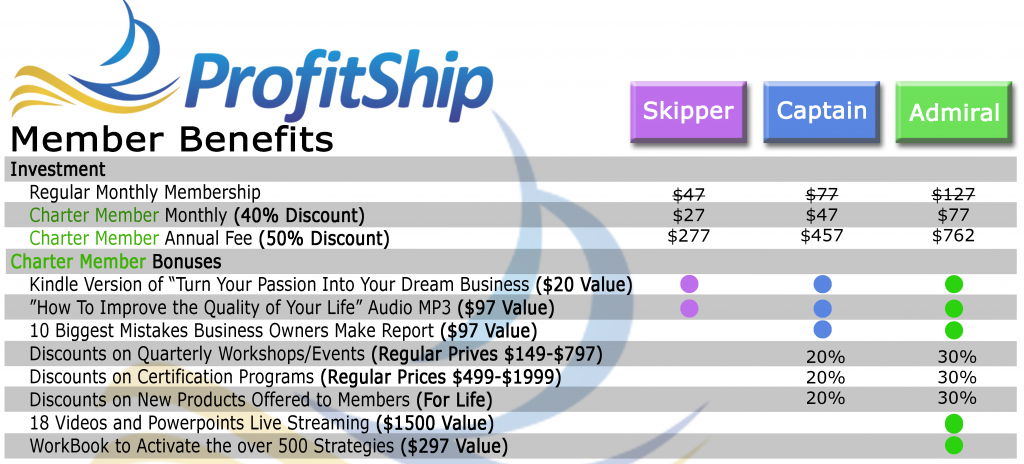 Don't Forget
69% of start-up businesses fail in the first year
80% of new businesses fail within 5 years
Families are mad at each other for losing money they loaned to the business
Family holidays are ruined
Customers lose a great product or service
Vendors lose the money that was owed to them and future orders
Banks lose the money that they loaned the business
Join Today As A ProfitShip Charter Member For A Limited Time!